Our Letter To You
W
e are a family-owned business based right in the Ozarks. I have worked in construction all my life. I first worked in my father's company before starting my own in the summer of 1996. In the last few years, we have been one of less than 75 companies awarded Master Contractor in the United States. We like to pride ourselves in breaking the
"roofers stereotype"
by building our business on referrals from satisfied customers that were treated fairly and honestly.
As an owner-operator, I am involved with every aspect of the project from the bidding, to application, to completion. I work side by side with my crew to ensure quality control throughout the life of the project.
As a company, we have decided to be selective when choosing our roofing materials. We specialize in high-end products, primarily manufactured by Conklin Co. which has a 40-year track record, and one of the lowest warranty claims in the industry. We want that "sleep at night reliability" for ourselves and our customers!
We appreciate our customers and look forward to building many more lasting relationships in the future.

JaRon Townsend,
Advantage Roofing & Insulation, LLC
Conklin Roofing Contractor (Independent Business Owner)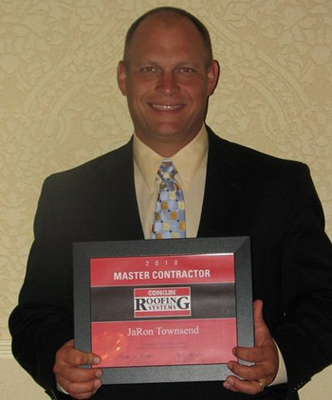 Have a project in mind?