"Don't be trippin, call us if it's drippin"
Let us provide you with a free inspection and estimate on a roof designed for today's rigorous commercial and industrial environments and meets the latest energy requirements.
Advantage Roofing specializes
We provide lasting solutions to problem
flat, low-slope, and metal roofs!


Why
Lower Utility Costs
Energy Star Rated
Non-Prorated Warranties
Long Lasting and Maintenance Free!
Choose


View the research PDF's and see for yourselves.

Case Study
Quality In Every Step
Expert craftsmanship and quality care keep
us in business. We will stand behind our work
and the products that we represent.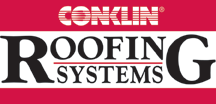 See Our Services →
Quick and Easy Process
Comprehensive estimate free of change
Conklin Roofing Systems Certified
Friendly and knowledgable roofing professionals
We stand behind our work
Single-ply Membrane Examples
Durable cost-effective solution that will fit your budjet needs.



View more →
Metal Roof Restoration
We have the answer for leaky metal roofs.



View more →
Rejuvenating Rubber Roofs
Don't replace; restore your existing roof.



View more →
Interior Foam Insulation
The best investment you can do for your structure is to install polyurethane foam.


View more →